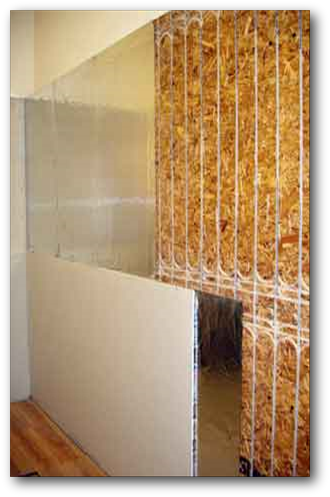 Products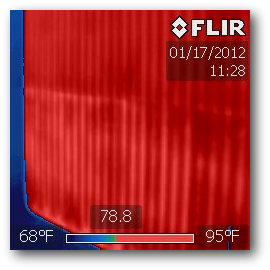 Super fast response, extreme even heat distribution and very high BTU output capacities are assured due to the use of aluminum sheeting and its excellent heat conductivity value, which is 120 times better than concrete.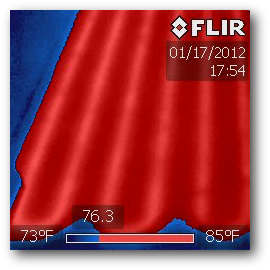 Our floor heating panels were officially introduced during a "THIS OLD HOUSE" project in Lexington, Massachusetts in 1992.
A total of over 800 acres (3.2 Million Square Meters) of flooring coverage have since been installed in American, Canadian and European homes.

These plywood--aluminum Floor Heating panels are being sold by major systems suppliers in the USA, Canada and Europe as part of their floor heating systems offerings.
Under the test of time these panels have proven themselves for a myriad of reasons and have become the home builders and HVAC contractors first choice.
We are pleased to announce the introduction of our Radiant Wall Heating Panel. This completes our radiant panel offerings to our system supply customers. Our wall panels make Hydronic Radiant Systems integratable with HVAC systems to be able to offer the home owner the best of both at a reasonable price.
Thermal image of shown Floor Panel installation
Thermal image of shown Wall Panel installation

Heat Flow Made Visual
Even Heat distribution, only Aluminum can provide ! Fast heat transfer, all due to a heat conductivity value 120 times better than concrete.


BTU-Output Test Parameters:

Room temperature : 68 F
Insulation in Wall : R-value 19
Number of Panels : (8) panels piped in series- Single Circuit- 5/16" PEX Tubing 250 feet long
Panel Wall Coverage : 85.33 sq ft (8 sq meter)
Circulators used : Grundfos Mod. UPS 15-58 (low head) and UPS 26-99 (high head)
Flow Rates : low head speed(3) 0.380 GPM, high head speed(3) 0.520 GPM
Hydronics Wall Heating
Panel Dimensions : 1/2" X 32" X 48" OSB (for tubing insertion) 10.66 ft2 or 1.0 m2 wall coverage
Finish Wall Boards used : 0.250" and 0.420" Hardibacker cement board, R-values 0.13 and 0.19
0.500" Gypsum Board, R-value 0.45
The addition of plaster, paint, wall paper or tiles to the above wall boards is negligible and will not reduce the BTU-output of the wall heating panels.